Musculoskeletal Physiotherapy
Musculoskeletal refers to the function of the nerves, muscles and skeleton, and how these systems are interconnected. As specialists in this field, we are able to accurately assess, diagnose and treat a wide variety of conditions affecting the MSK system. This also includes sporting injuries and post-operative orthopaedic rehabilitation.
Learn More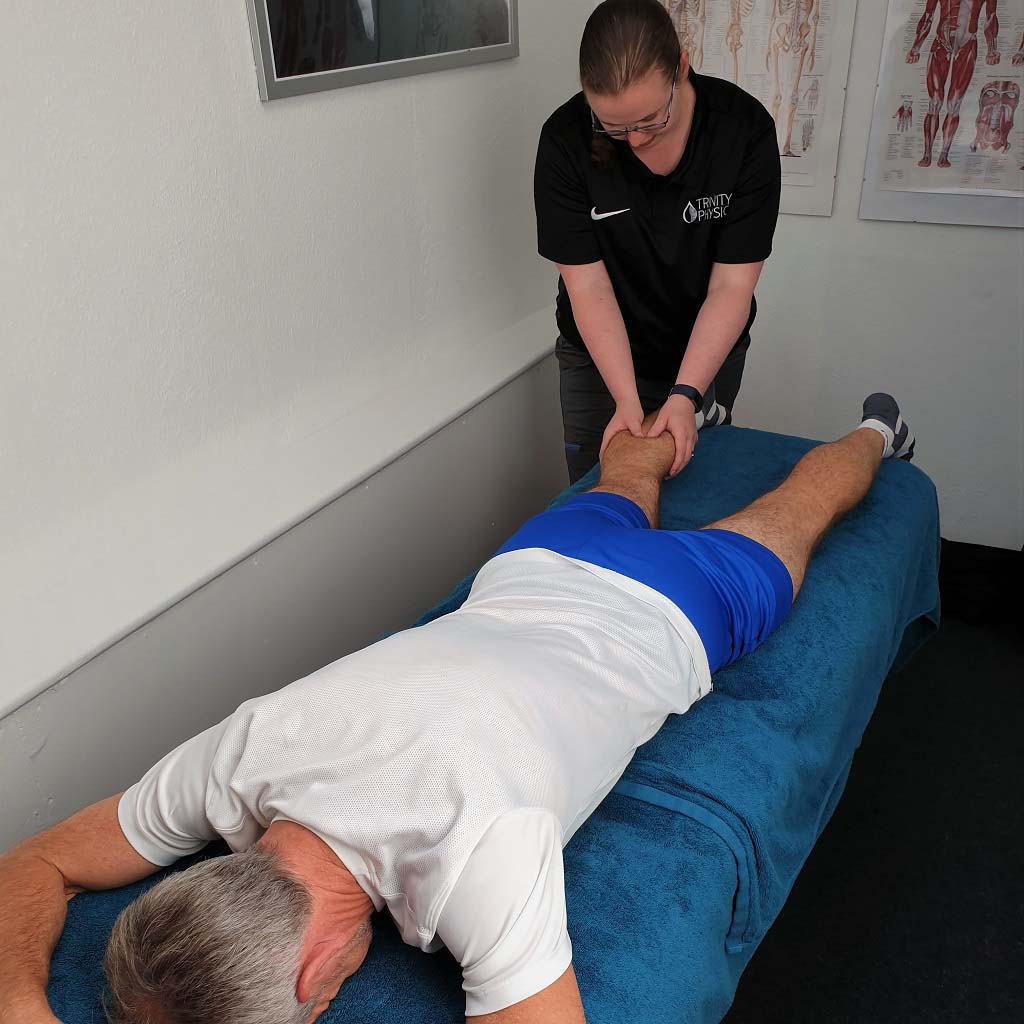 Cancer Rehab At Home
The PINC and STEEL programmes provide individualised, prescribed physiotherapy rehabilitation to women and men diagnosed with cancer; helping them heal as well as possible, and function at optimal levels through every stage of their cancer treatment and recovery They are delivered by our certified Cancer Rehab Physiotherapist, and are specifically designed to help maximise recovery, regain physical and emotional strength, and improve body confidence and control. Treatments may include: hands on therapy, exercise prescription, resistance training, fatigue management and pilates.
For more information on PINC & STEEL visit pincandsteel.co.uk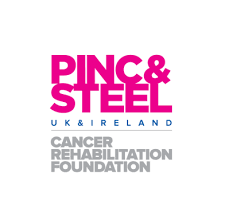 Next Steps Cancer Rehab Class
NEXT STEPS is a group exercise program for men and women who have finished their main cancer treatment and want to take the next steps on their road to recovery. The program combines the best pilates, yoga and cardiovascular exercises for a workout that is specifically designed to help rebuild strength, flexibility and stamina.
The program runs for one hour per week for ten weeks and is specifically designed to help people affected by cancer. It is suitable after any type of cancer surgery or treatment and accommodates all ages, fitness levels and mobility.
The program is delivered by certified PINC & STEEL Cancer Rehab Physiotherapists and each class combines strength, flexibility and cardiovascular exercises for improving your health and fitness. Weekly take-home resources and exercise handouts are included.
What Next Steps will do for you
~ Improve strength and mobility
~ Increase energy levels
~ Strengthen core muscles and improve posture
~ Reclaim body confidence and control
~ Reduce treatment related side-effects
~ Improve stamina and fitness
~ Improve breathing and reduce stress
~ Help you to integrate regular exercise into your life
~ Allow you to laugh, relax and have fun
~ Connect with other people on a similar journey to you
Pelvic Health Physiotherapy
Covering all areas relating to obstetrics and gynaecology. We specialise in the treatment of pregnancy-related musculoskeletal problems and post-natal return to activity for new mums.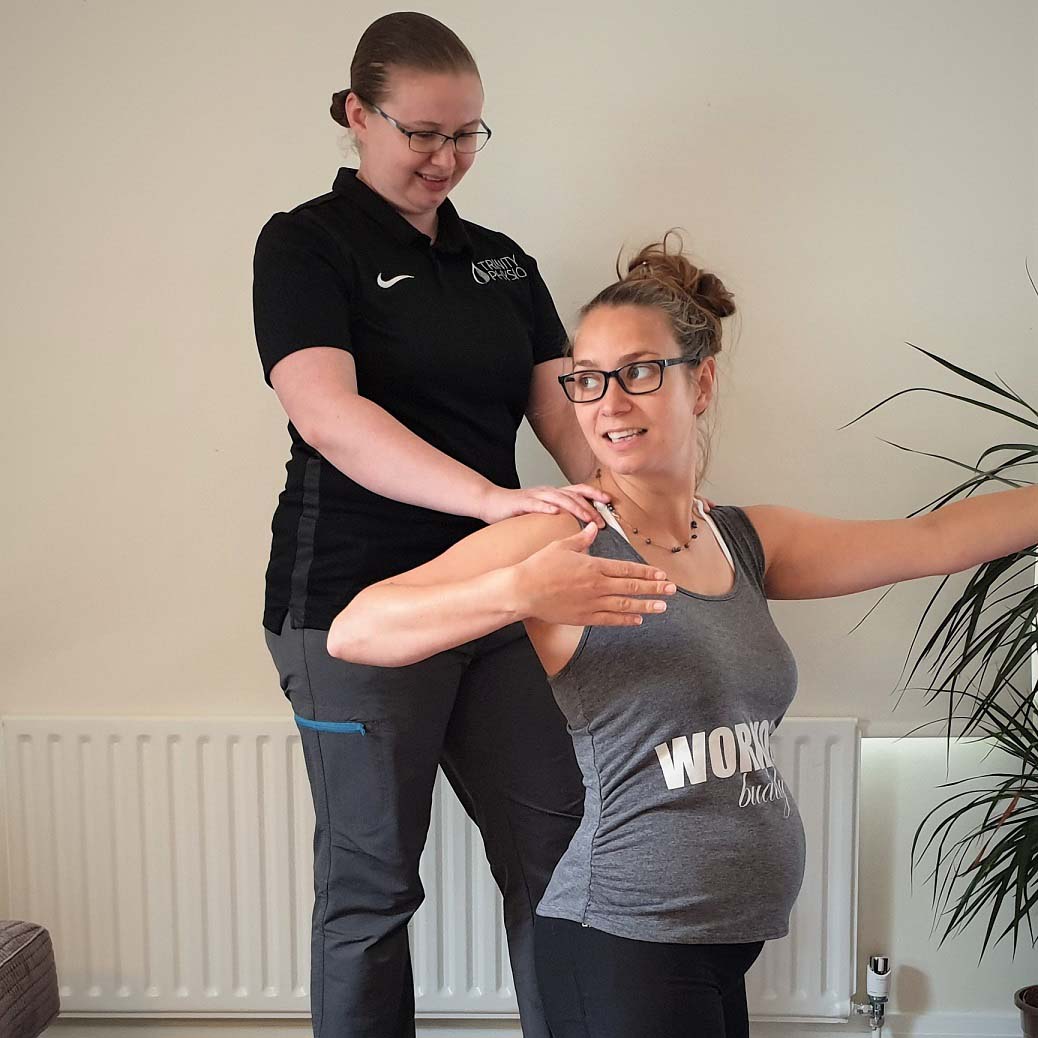 Occupational Therapy
Occupational Therapy (OT) aims to help people improve their ability to function by identifying and eliminating environmental barriers to independence and participation in normal daily life. At Trinity, our OT specialises in occupational health and post-operative orthopaedic rehabilitation. Our services include assessment and ordering of equipment for the home and work place, ergonomic and workstation assessment, return to work planning and employer liaison.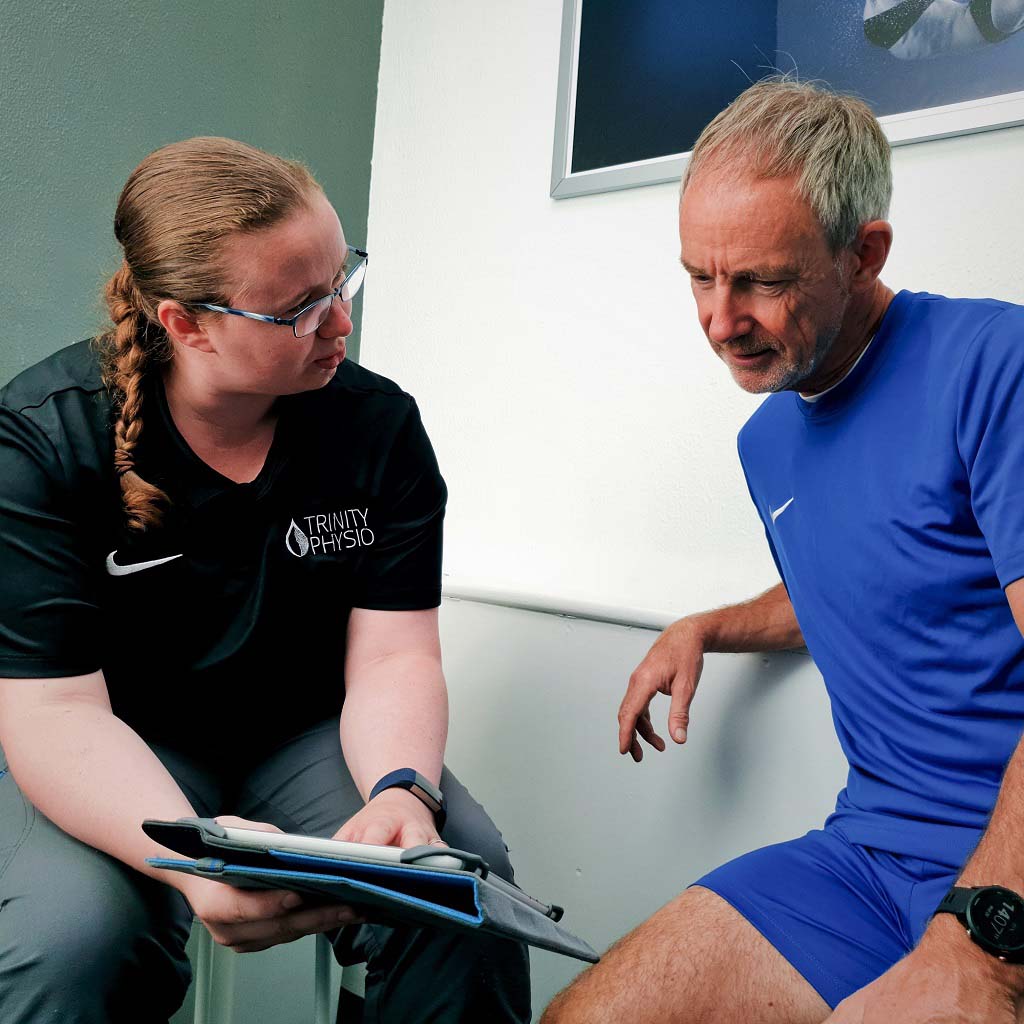 Psychological Services
Injury and pain can leave clients with other types of problems that cannot be fully resolved with Physiotherapy alone. Our emotional and mental well-being affects the body directly. Stress, sleep disturbances and other emotional or behavioural obstacles can also worsen physical symptoms, reduce the healing capacity of our tissues and prolong recovery. Some people find that issues with pain and physical injury have brought up difficult emotions or other issues that are making life difficult to move forward with.
At Trinity Physiotherapy, we have excellent links with an accredited cognitive behavioural therapist (CBT) to help address these issues as they relate to recovery and to enhance your long term health. If you are curious about how CBT might be able to help, please follow the link to our CBT associate Lindsay, for information about CBT sessions and how to book. Lindsay offers a 10% discount to clients of Trinity Physio and a further discount for block bookings.
Click here to learn more about CBT
Private Pilates
Pilates aims to strengthen the body in an even way, with particular emphasis on core strength to improve general fitness and wellbeing.
At Trinity Physio, we incorporate our physiotherapy knowledge to be able to adapt Pilates to help you recover from illness, injury or just as a way of keeping fit. We also run sessions that help teach our clients about their bodies and how to optimise their posture and movement.
We offer private or semi private matwork and small equipment pilates in the clinic, at your home or live on ZOOM. We can also teach reformer, springboard and cadalac pilates if you already have this equipment at home.